nice. filler sucks tough

---
Any update is a good one!! I like seeing the engines on! I sure you will have that fit under control! Keep ti going!!
---
man this girl is just testin ya int she, im really lookin forward to seeing just how well you are gonna make this crap kit look, it will give me faith and inspiration mate, i much admire your patience and skills, that glue soup is still a tip ill remember well, keep up the good work Vinny man
Man with hand in pocket, feel cocky all day

---
Hey lads,
Well I resigned myself weeks ago to the fact that I wouldn't be getting this finished by the deadline.
Sometimes life just gets in the way of modelling and it is a hobby after all. I also ordered some glue that I wanted to try out for this build at the start of February. It didn't get dispatched until the start of March and it still hasn't arrived!
I also have been getting bogged down with the internals of this model, which are taking a lot of time to complete. I've also been catching up with Dexter while working on this... which means I end up looking more at the TV than at the model. Anyway, here are a few progress shots to keep you up-to-date. The build hasn't defeated me but it's a slow one... I will continue on as normal.
I wanted to add a sense of weight to the tyres so I decided to slowly soften them using a hot screwdriver tip. You have to make sure that the screwdriver is heated on a hot surface (like a hob or iron) and not over a flame. As you'll see from the close-up it adds a nice bulge to the tires. It can be risky but take it slowly and practise on some spare wheels. Saves buying pricey resin ones too.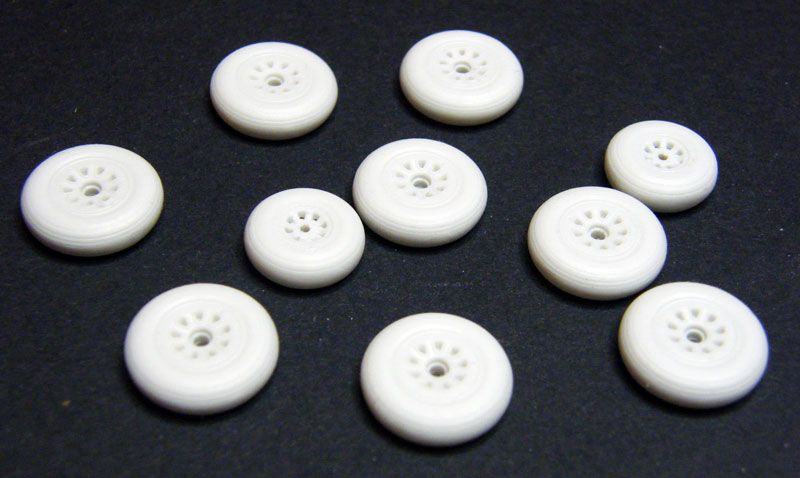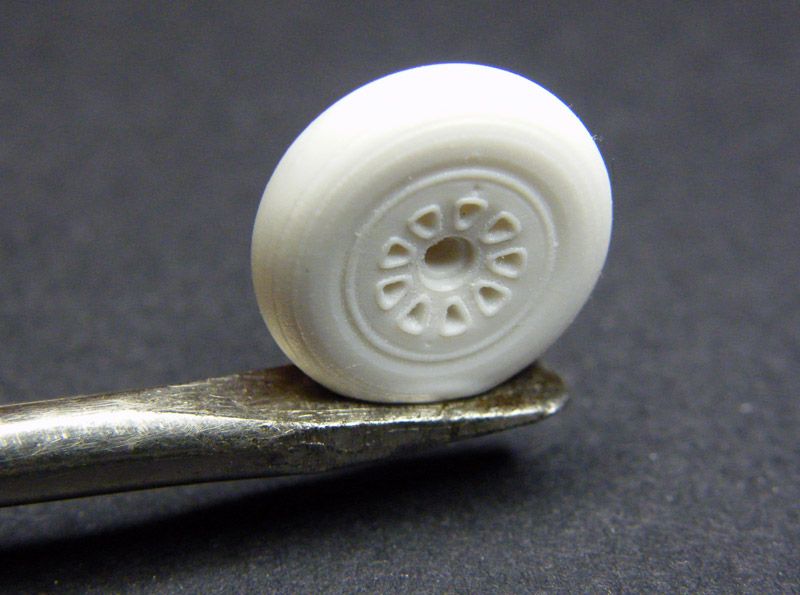 The landing gear bay had no detail whatsoever so that had to change.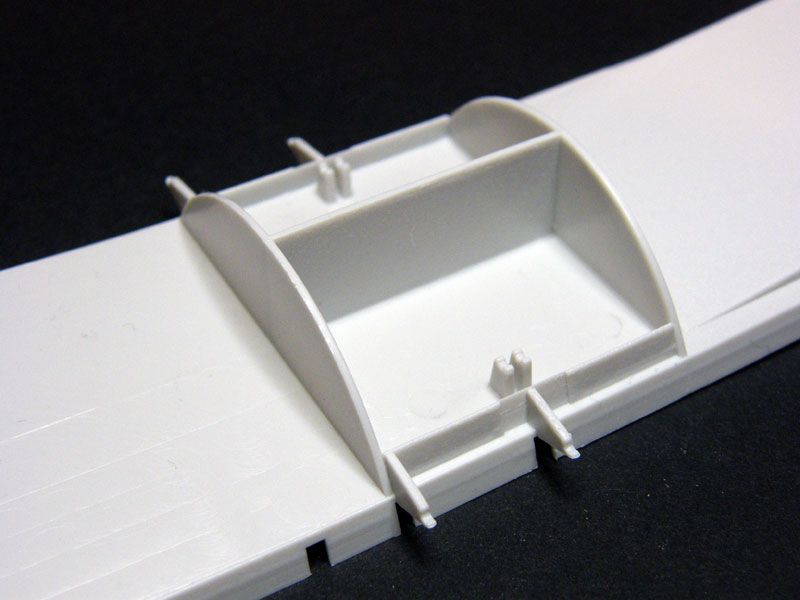 Using plasticard, square rods, square tubing, and various size wires, I knuckled down to some scratch building.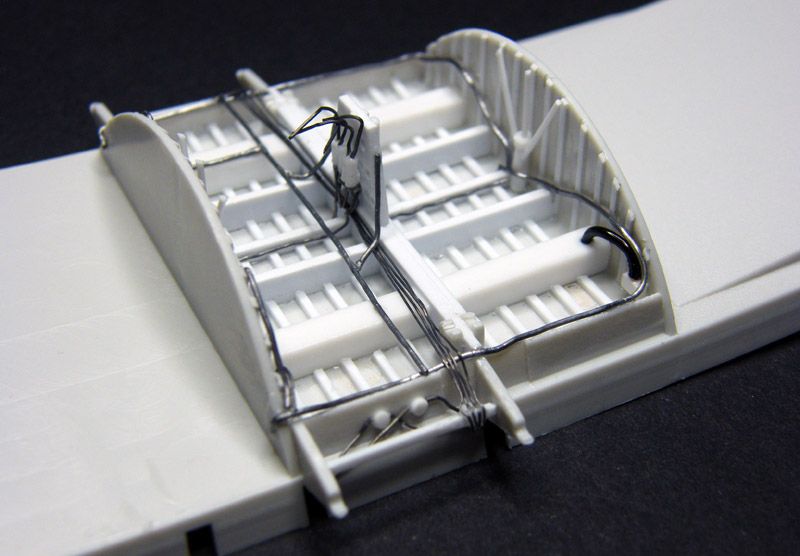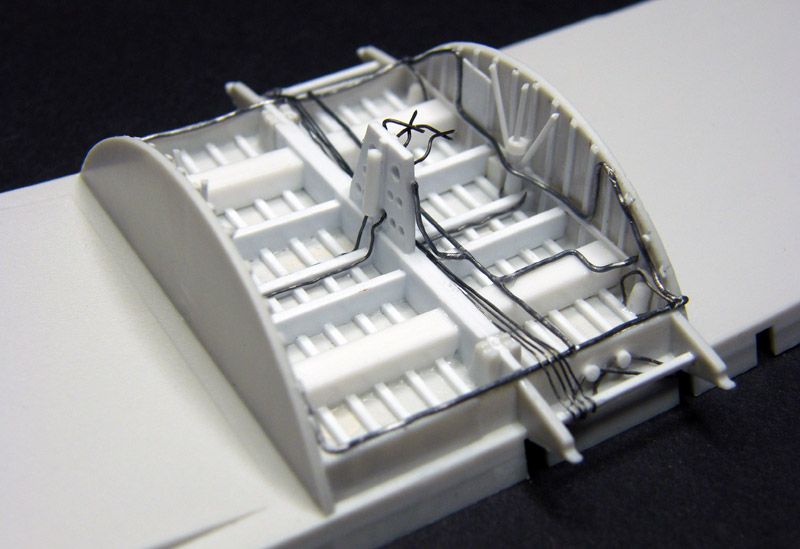 Painting began by first giving the bay a primer/base colour of black. Then I airbrushed on the grey but predominantly hitting the area from one direction. This leaves some of the black in the nooks and crannies and creates a nice sense of depth and take care of a lot of the shading achieved by washes etc. (I was convinced I had photos of these stages but obviously not... apologies for that) I did add a pin wash at the end to pick out the details. I think it's a slight improvement on the kit part anyway. Shame most of it won't be seen
Next is the flightdeck which again is pretty stingy on detail.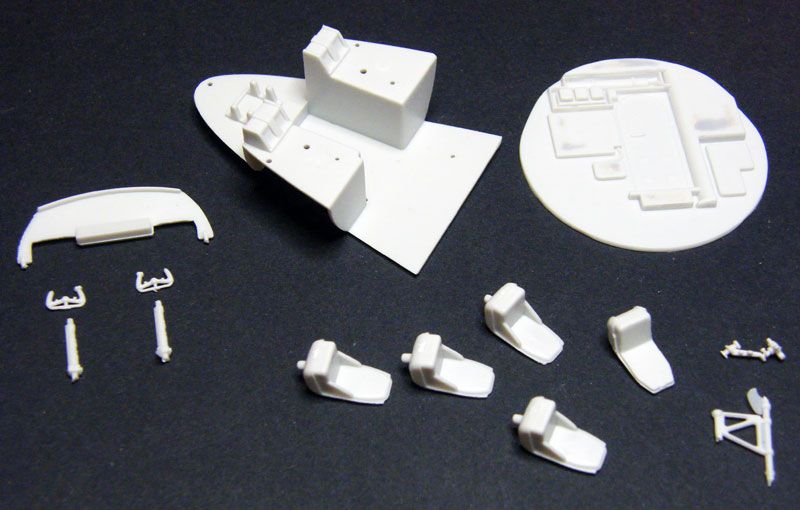 A good tip for filling up unwanted holes, and avoid the whole tedious filler and sanding procedure, is to glue some stretched sprue into them and after they set just cut them off with a blade.
This is where the etch set came into play and it's my first major etch project that involves bending and folding tiny parts. The flightdeck itself has taken the best part of a week to build. As you can see the seats alone were kits in themselves. Something looked odd about the seats and I noticed that there were no cushions so I added them using plasticard shaped to resemble something cushion-like. I also added extra belts using metal foil from the art shop.
The bulkhead at the back of the flightdeck with etch and some bits of plasticard and wire attached.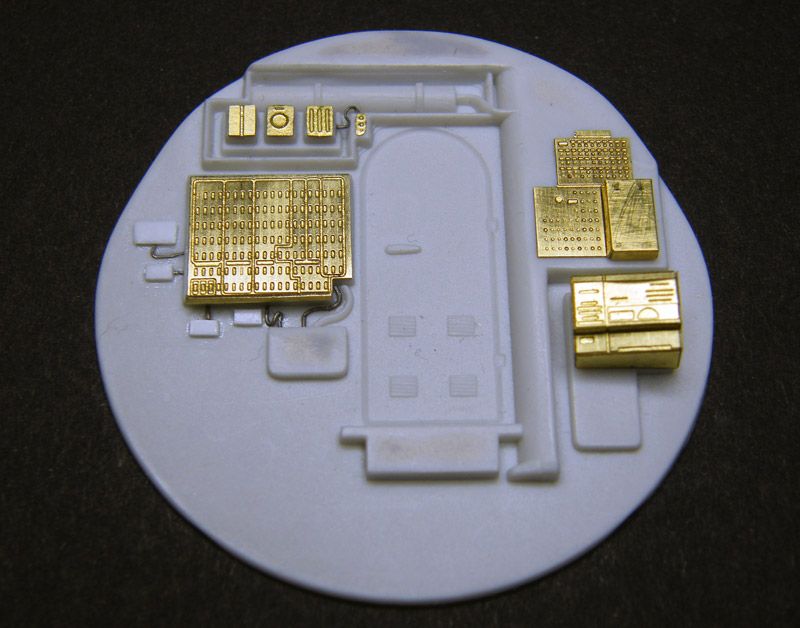 How the cockpit will look with all that brass!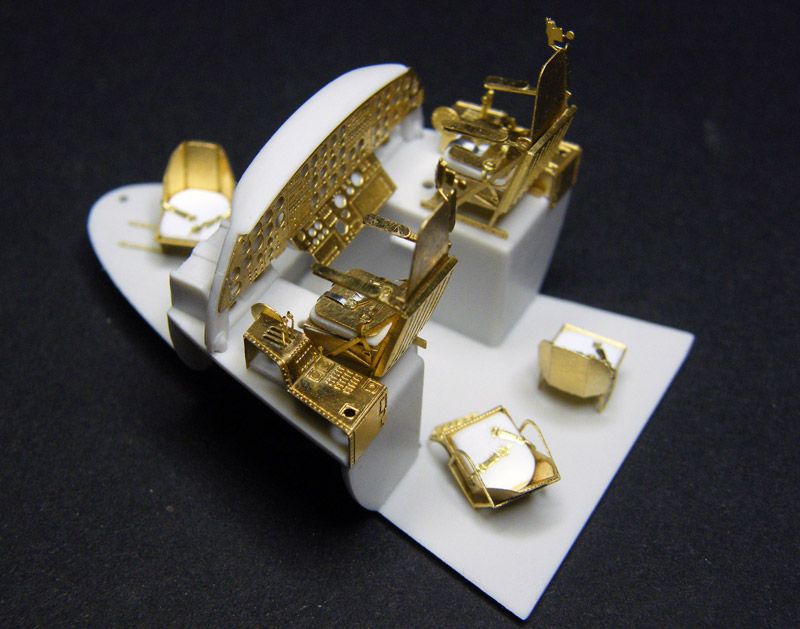 Painting of the cockpit comes next and should take a while considering its size and al the details.
Until next time!
Vinny
---
Great update Vinny,love all that extra attention to detail esp the cockpit area,looks class,great work
Brian
---
Holy Shite!!!
what a shame to paint all the interior, that is bloody epic Vinny. landing gear bay is epic also this will be a really sweet build once complete in about 10 years at current pace

---
Took the words right put of my mouth spud!
all that etch would make me jump off sumit really high lol
---
Posts: 586
Joined: Sat Apr 21, 2012 10:32 pm
Location: Corcaigh
Man.This is turning out sweet.Nice job on the tyres,lots of cockpit & the seats are class.Tis a big project alright Vince but your turning out some great stuff on it.Keep at it bud.
---
Posts: 2028
Joined: Fri Apr 20, 2012 12:31 am
class vince, you now how to spice up a mod, thats for sure.....
---
Vinny
excellent
---
---
Return to "The Dirty Russian Build"
Who is online
Users browsing this forum: No registered users and 1 guest