Ouch, sounds like the wrecked version of this might be easier Vinny

---
That is some size plane vinny,very interesting to see how how you tackle/challenge all those flaws with the kit...looking forward to following this one
---
Looks like you have some items to overcome with this one Vinny!! Nice looking plane just the same!!
---
Posts: 1986
Joined: Fri Apr 20, 2012 12:31 am
I say he has it done by now, looking forward to the pics
---
lol i bet he hasn't touched it since these pics

---
Yep your right spud. I can hear him snoring
---
Funny men you lot! Ok, I admit, I've been slacking off!
I haven't been doing much on it lately that is worth updating. I'm tipping away at it but you lads are shaming me into posting so just to keep you happy...
They took days but the engines are finally assembled, flaws are fixed, cleaned up and lost panel lines rescribed.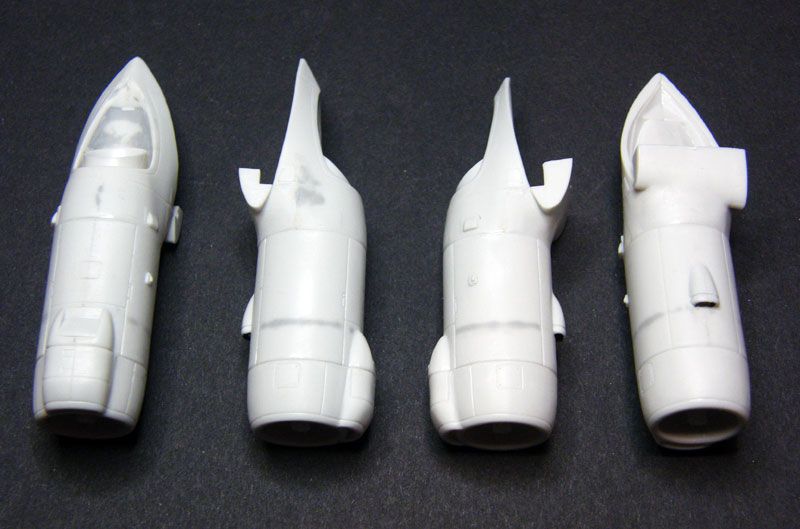 I also picked up some bargains on eBay which will come in handy. Another set of etch (I didn't pay that price for it!) which I might use some parts. And some paint masks to make life just that little bit easier with this already problematic build. The extra etch and second paint mask won't go to waste as I've another civvy version of the An-12 in the stash.
I'll try to keep the momentum going
Vinny
---
any bit o progress is good progress
.
them Engines cleaned up real nice

---
hey man, nice tip on the problem of the nacelles the glue n plastic soup is a great idea, this is gonna be a bit of a bitch alright but a fine and unusual project which im sure you will do justice to, lookin forward to seeing the results
Man with hand in pocket, feel cocky all day

---
An embarrassingly small update
... but an update none the less! Just got to keep tipping away at it and it'll eventually come together! All the small detailed work is what's taking up most of my time with this.
Wing tips get the navigation light treatment. Thanks to The Anonymous Modeller, I finally managed to see some detailed photographs of an AN-12 which exposed the incorrect shape of my attempt at the nav lights. I'll adjust them with some careful masking and bulge them out a bit with clear paint at the end. They'll do!
Engines are now on the wings and surprise, surprise, the fit is pants! Some plasticard shimmies and quite a bit of filler needed to get them presentable. I'll give this filler a few days to shrink before I sand it.
Thanks for stopping by!
Vinny
---
---
Return to "The Dirty Russian Build"
Who is online
Users browsing this forum: No registered users and 1 guest