How do now?
My first attempt at card modeling....well,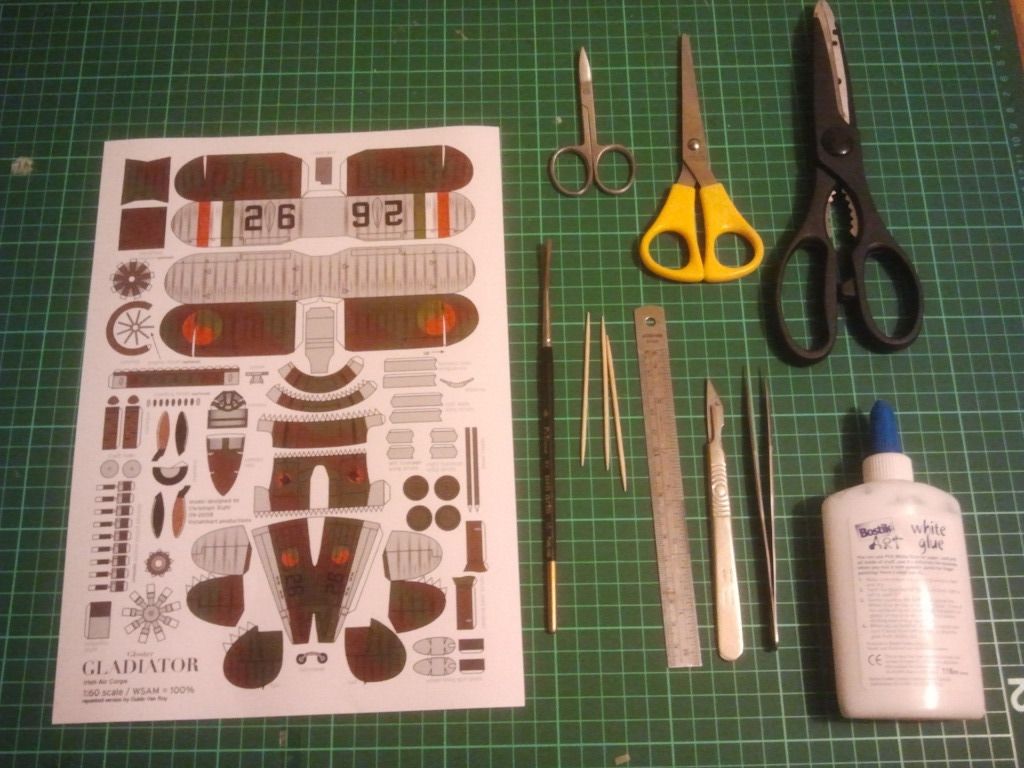 when I was a boy,
I cut out & glued together the cars & trucks etc that were printed on the Kelloggs boxes.The cardboard media of those kits like my memory of them are well recycled & forgotten.Like so many guys these days I'm getting back into modelling after many years distracted by life.I came accross this on the net & it took my interest so why not build it.It was designed by Christoph Stahl in 2008 & the Air Corps version was drawn by Guide van Roy - scale is 1/60.Downloaded for free with instructions & printed by a nice lass for 2 Euro.
First off I cut out the fuselage parts & bent them to shape (circular) glued the tabs,it bonds quickly so its easy to make mistakes.First mistake was I cut off a tab on the rear fuselage...no problem,just cut off some spare paper from the sheet ,make a new tab & try to correct my mistake.Next the fuselage parts are glued together working from the centre section.Guess I'm rusty but they don't match up great.If I was workin for Boeing or Airbus I'd have got the big boot ha ha.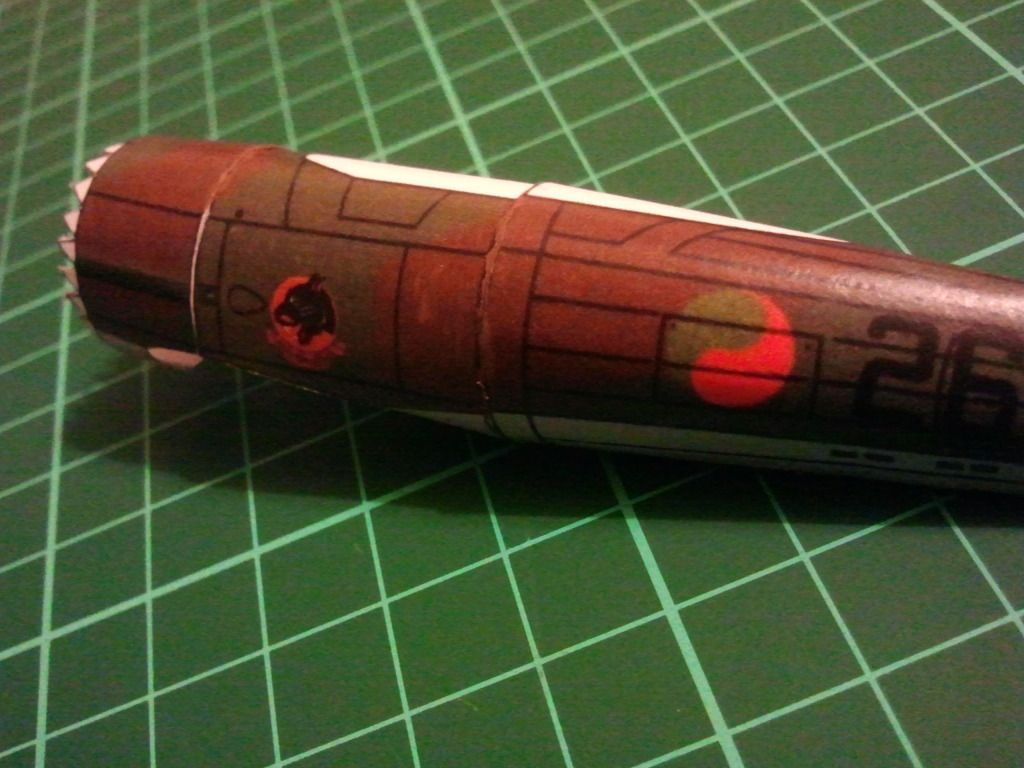 The edges of the cutout parts were painted to match the colour scheme as close as possible,otherwise you would be left with bright white paper where the sections join together.
Also the Squadron badge on the starboard side has the Black Panter facing towards the rear instead of facing forward.I'll sort this out later.
Next I cut out most of the other parts.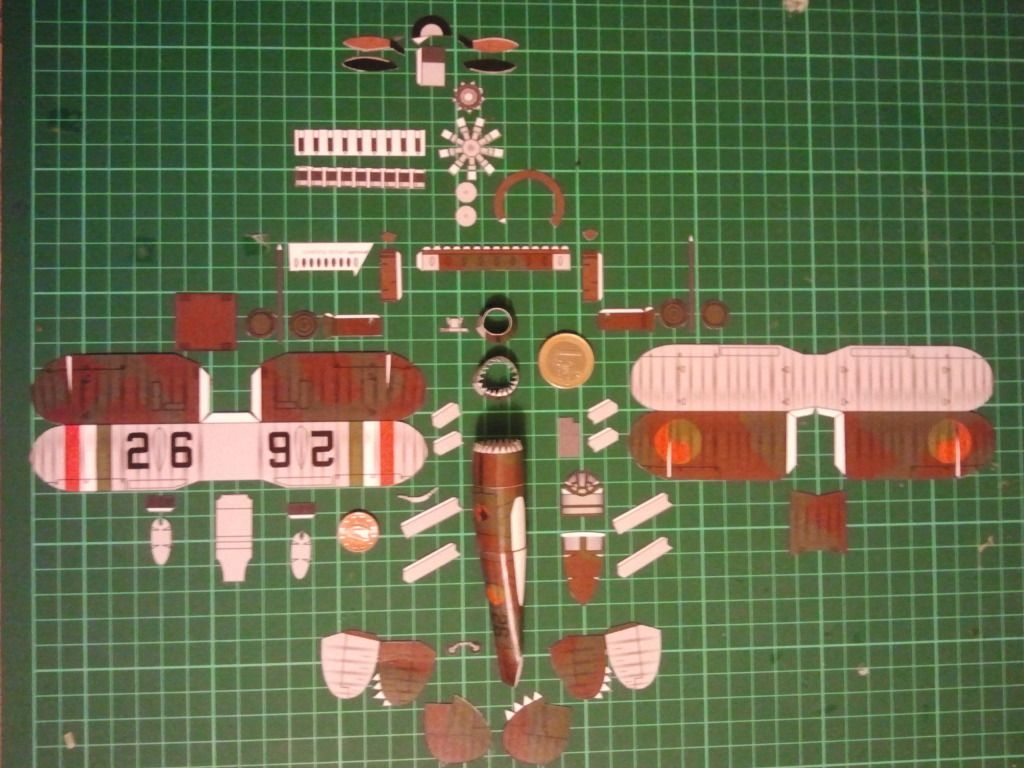 OK next up I added two more sections onto the nose & folded & glued the wings into shape.
The wheel parts were glued together.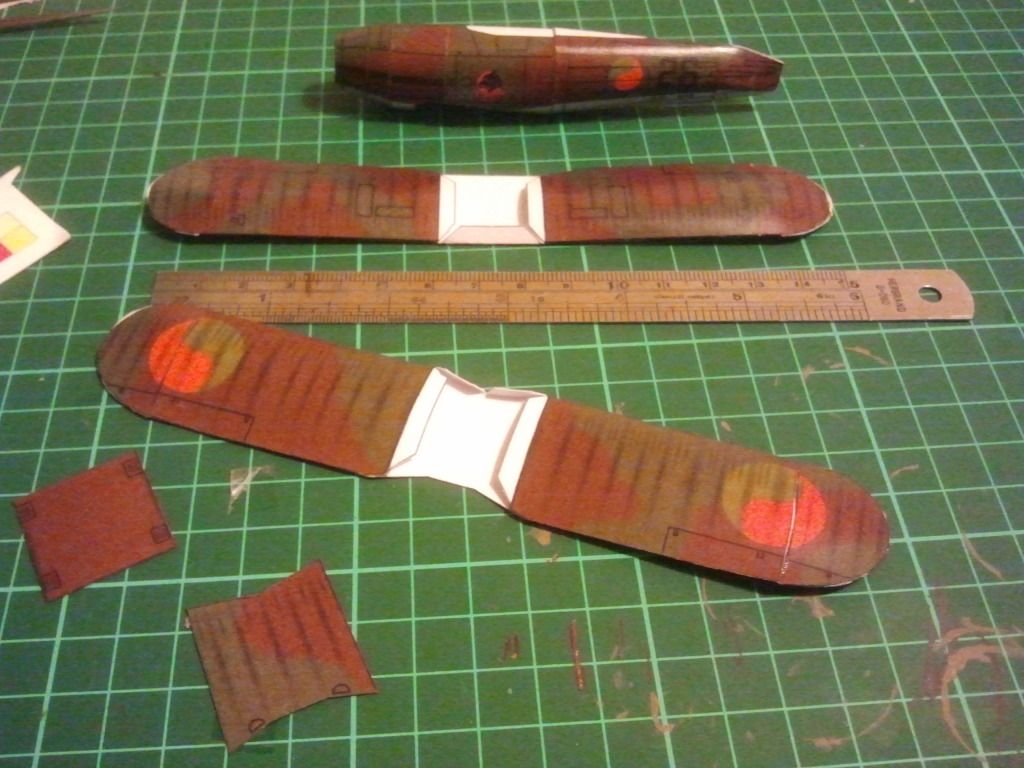 Then I tackled the engine.You have a choice of a simple picture of an engine to use or cut out parts to make a more realistic looking engine.I went for the hard one of course.The Mercury engine has 9 cylinders so a good few small parts to stick together.You roll the paper with these details into a small D shape,then another slightly larger D shape.Cut 9 to size from these rollies & glue the larger D's onto the engine section.Then the smaller D's slide through the larger ones to make the cylinder - easy right.No.At this point I began to think I'm getting into some new sadism trip but I kept one's pecker up & the ones that didn't slide were trimed & glued in place.When finished it didnt look too bad.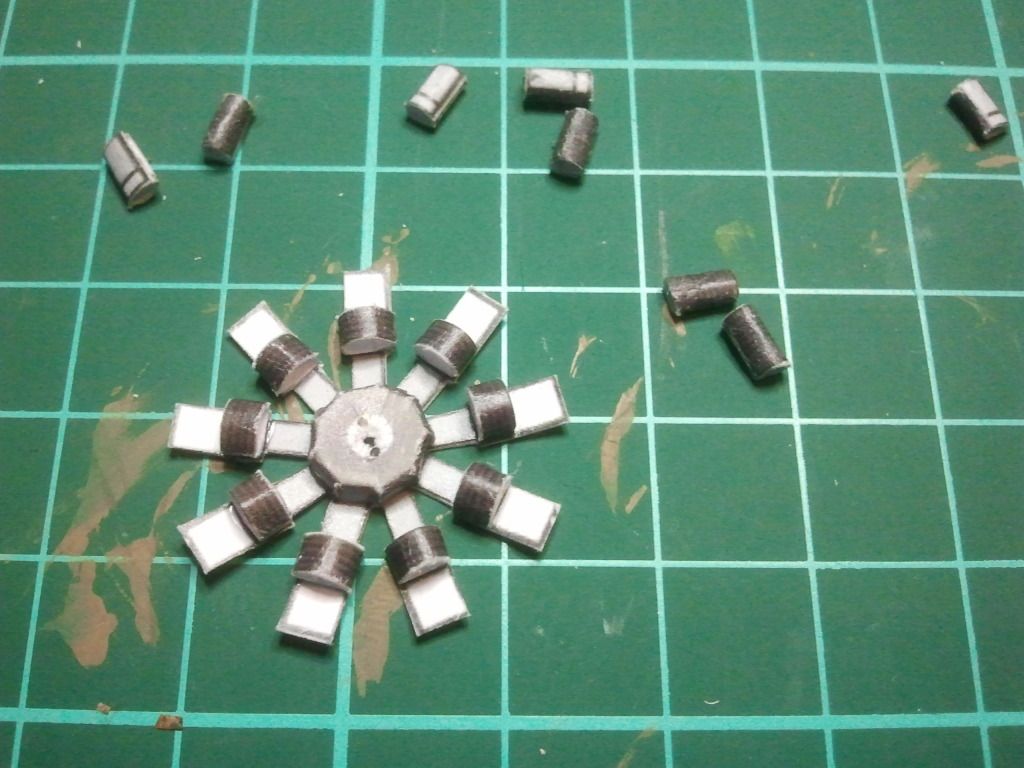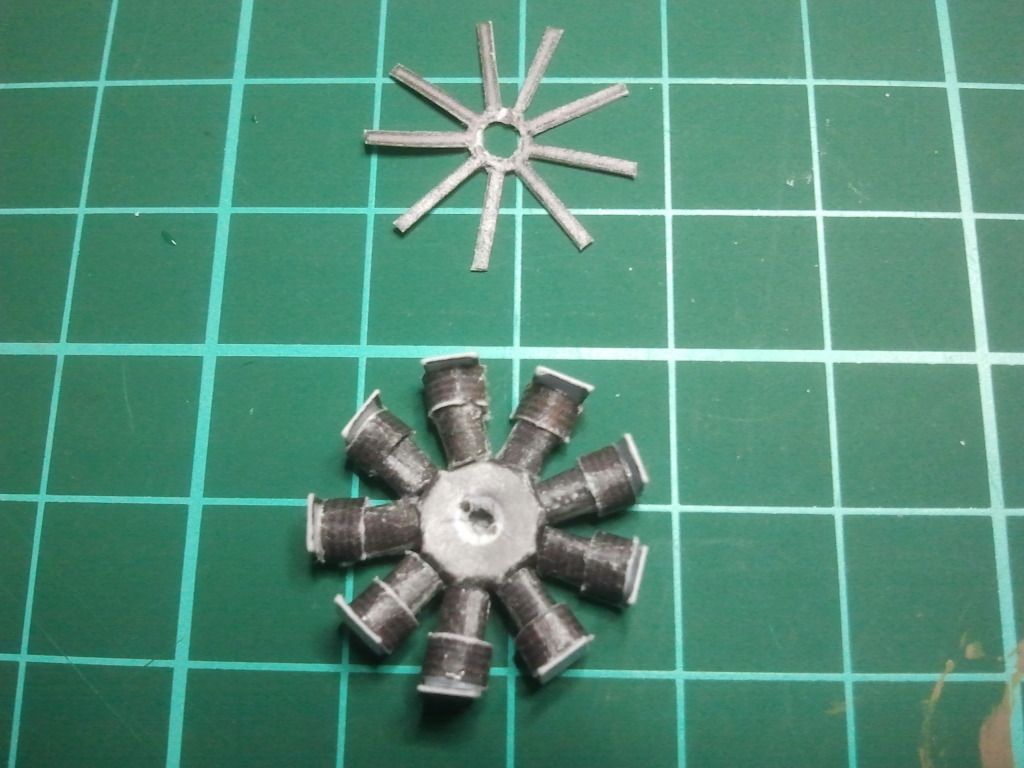 The prop was glued together.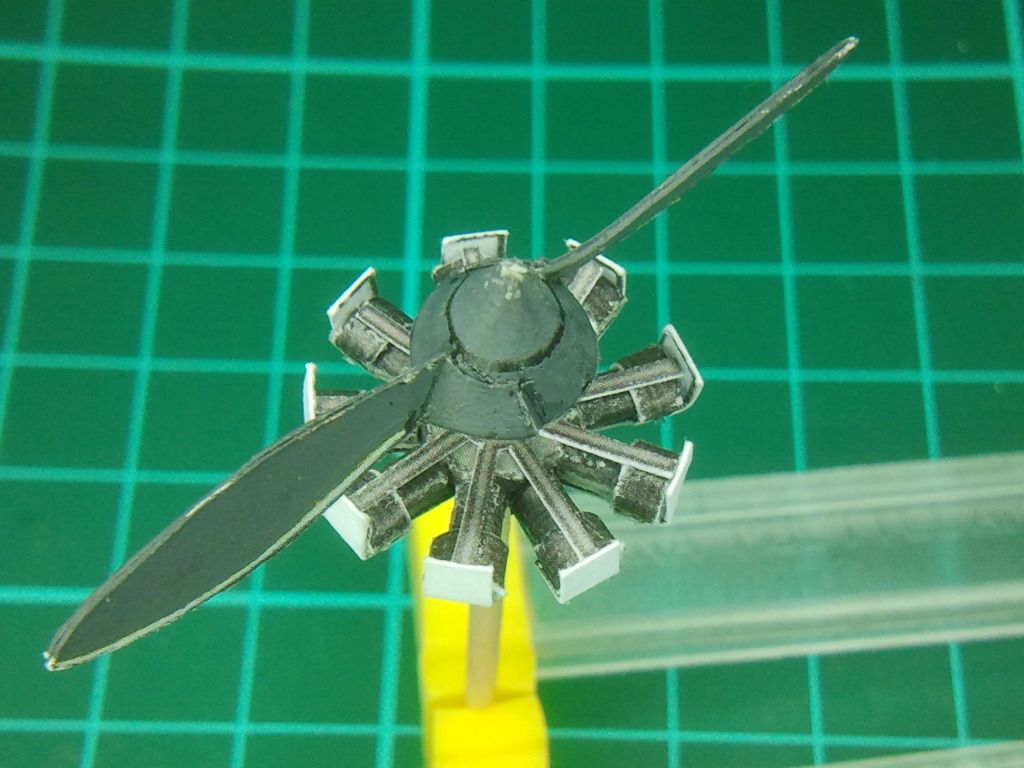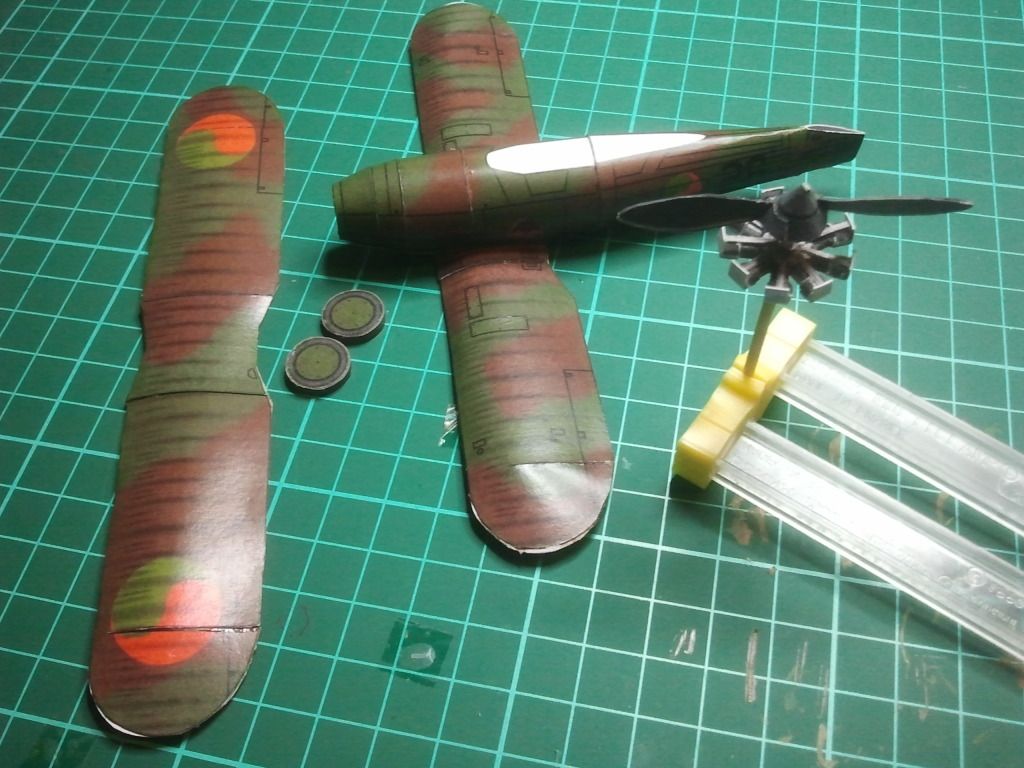 Well thats where its at till I get stuck in again,thanks for looking & all comments appreciated.Gowan ow dat -
Anon.