Looking good Brian
---
Cheers lads,im enjoying working on this one and hopfully i can recreate the dio i have in my head
Heres a few shots of the masterbox watchtower boxart and the two figures w/greatcoats which will be the ones going into the tower on sentry duty,you also get two other figures which will come in handy for some other project.Excellent figures and poses as you would expect from masterbox.They realy produce some class figures ideal for dioramas.
Also you can see on the boxart the radio and searchlight which must be made and be added to the tower with possibly also just a few extras,weapons,ammo boxes etc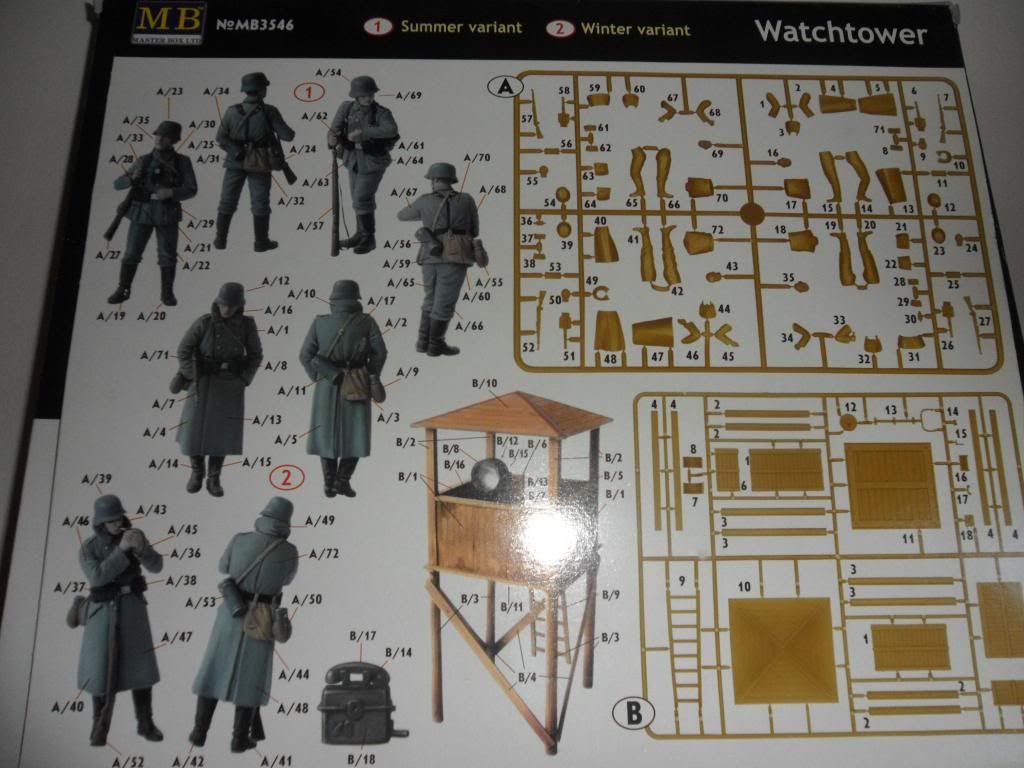 Watchtower color on box way to light for my liking,i much prefer darker wood effect and is what i want for the overall tone of this dio, this again is how looks now and will be doing more work on this one this week.I hope to get the figures assembled today and do more work on the groundwork for the base,grasswork etc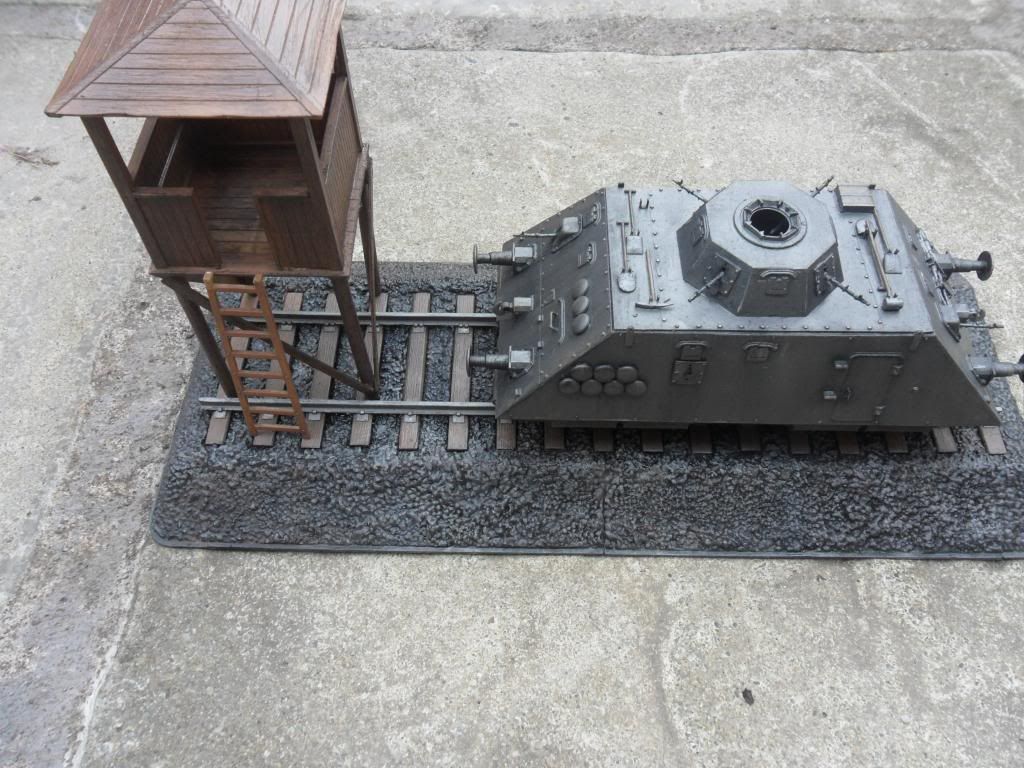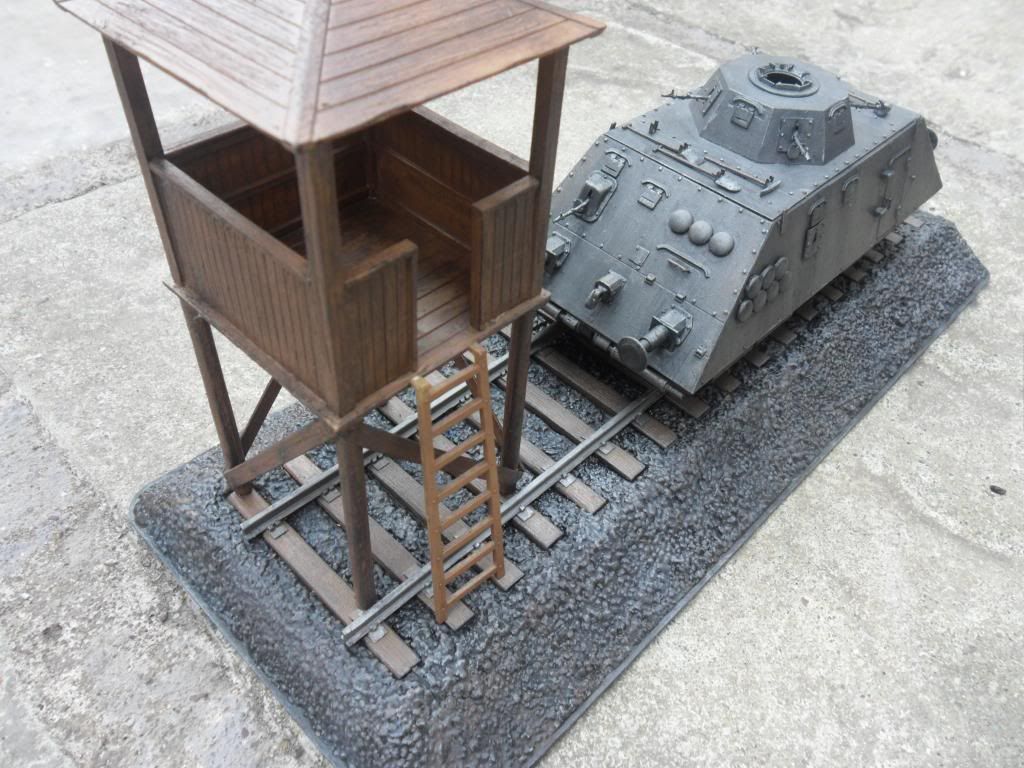 Brian
---
Ah, so you're incorporating the whole track section into a larger dio base. I didn't realise that was your plan. Very cool idea Brian. I can't wait to see how you progress with this one as it sounds great. Another head-turner for sure
Vinny
---
mad brian, great work it looks the dogs mate gonna be sweet lookin when done brill work man
Man with hand in pocket, feel cocky all day

---
Posts: 1123
Joined: Tue Jul 10, 2012 12:31 pm
Location: Leeuwarden, Netherlands (prev Carrigaline, Cork)
Yep,

Looks great and is still getting better too that old Dalek.

I'm sure you will add more stuff to it still.

D
---
Cheers lads,a good bit more do to with this one anyhow but im happy enough with steady progress so far,will prob add some fencing along the back and def will be adding two telegraph poles with wires from my Miniart stash.Figures will be next anyhow for sentry duty in the watchtower
Brian
---
Some small progress with this one lads, masterbox sentry figures put together,searchlight and telephone/radio added to the watchtower.I will add some wiring to these next for extra detail.I also added a shelf inside the tower from my miniart spares stash and just added in some German equipment for some interest and to add a bit of life.Accessories include some spare canteens,mess tins etc and binoculars on the ledge by the searchlight.
I also found the perfect size platform/base that i wanted for the tower and this will be painted in same color as the tower to blend all together,this also adds a bit of extra height which i wanted for the watchtower. Base,Roof,ladder and the tower itself not fixed in place yet as more extra detailing to do to this as well.
On the train itself the decals were added and i used some from my stash just for some interest by adding a Deaths Head symbol on the turret as i think looks very cool with the color of the train and also numbering was added.
So some progress shots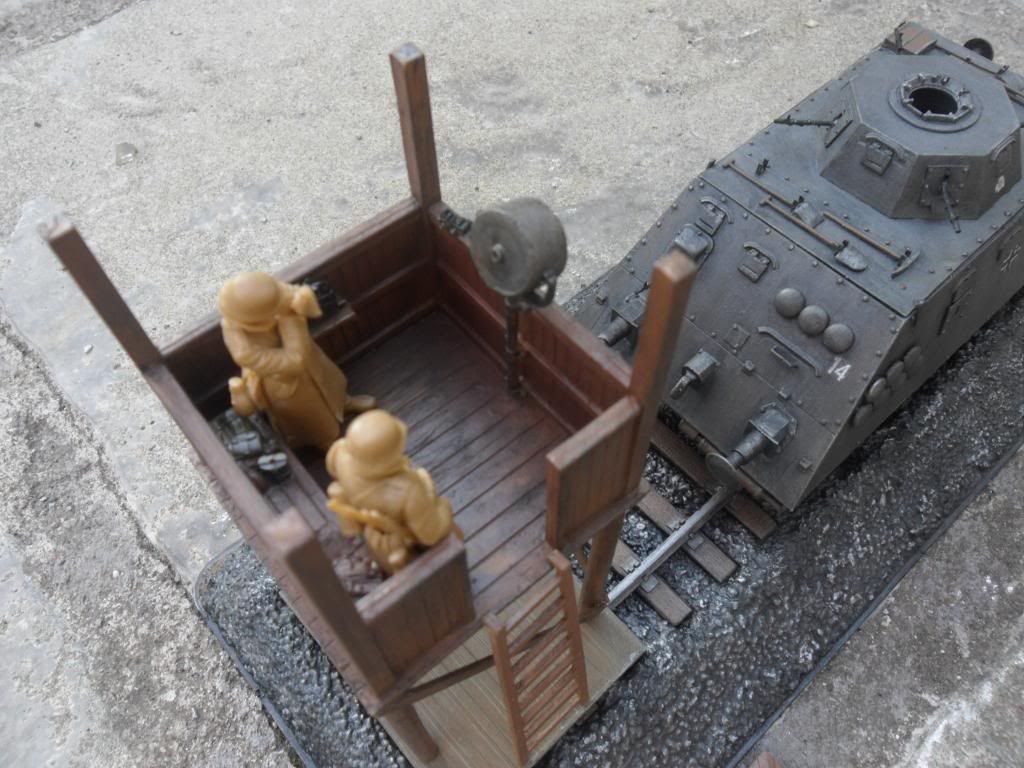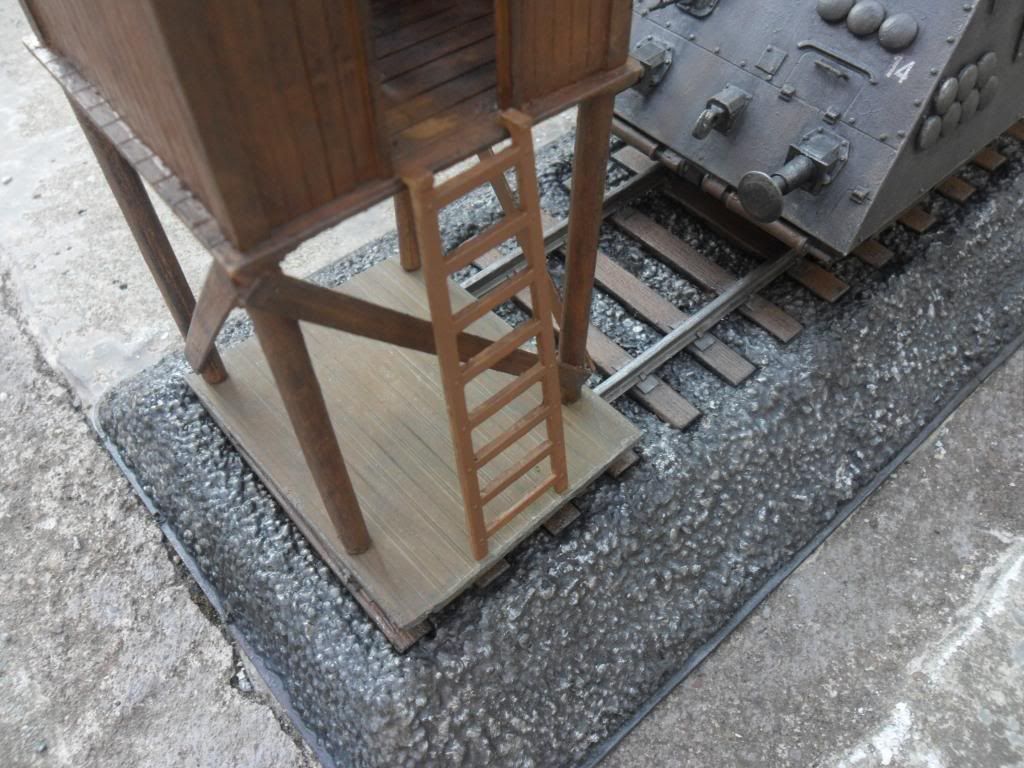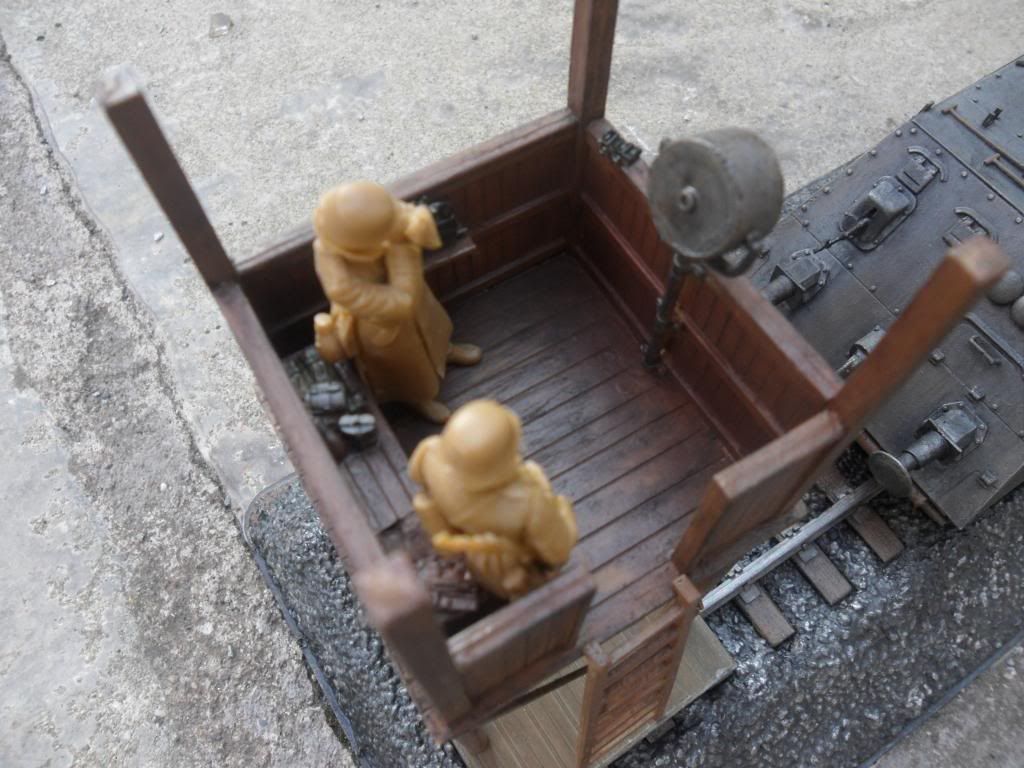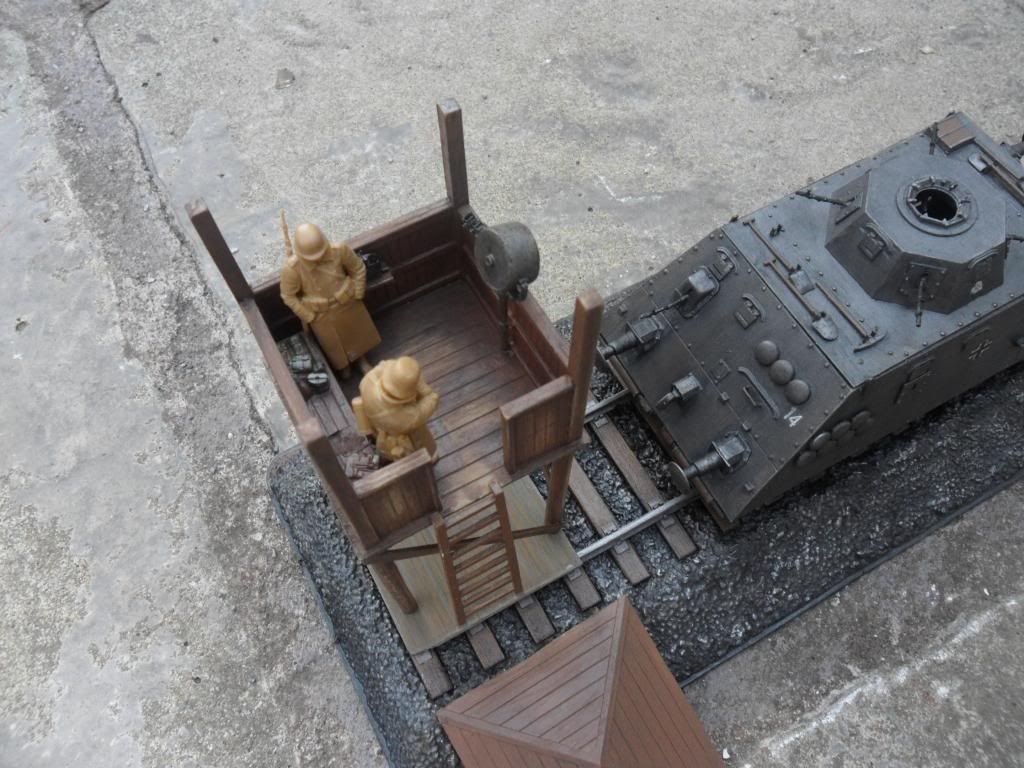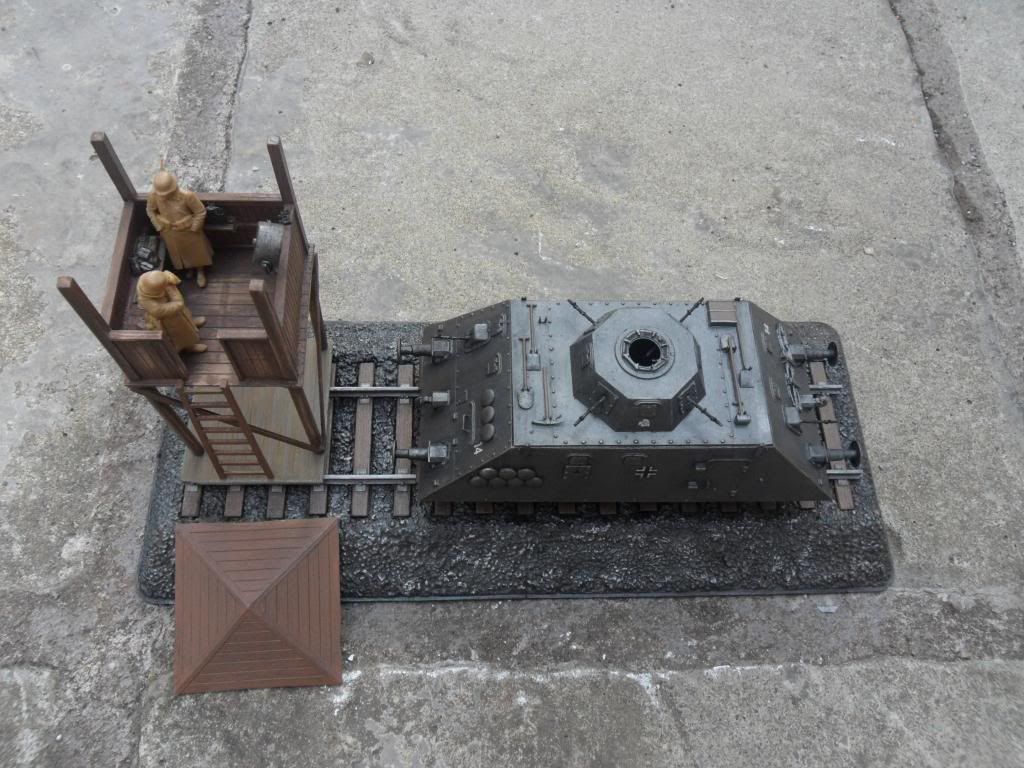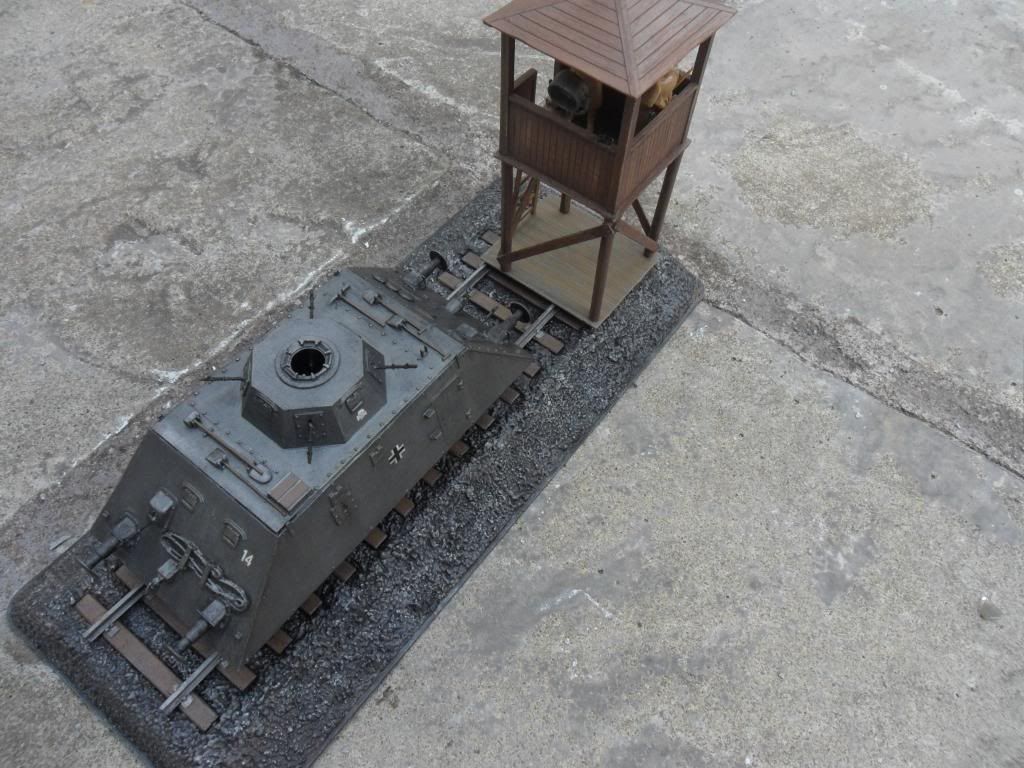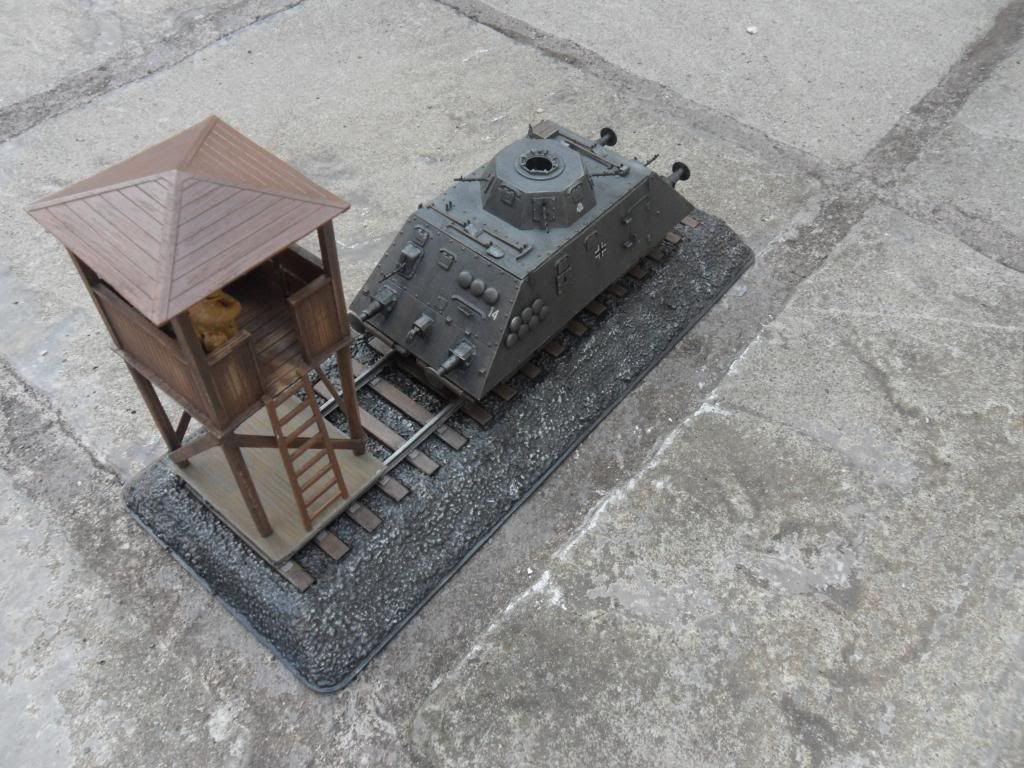 So next stage will do do more work on the groundwork/base and detail that up,might add some fencing with wire along the back of the base and add some vegatation here and there for some extra realism
Cheers,Brian
---
Posts: 1123
Joined: Tue Jul 10, 2012 12:31 pm
Location: Leeuwarden, Netherlands (prev Carrigaline, Cork)
Hi brian,

That's great stuff there, lots of ad ons make it a nice piece.
Love the small bits there man!

Dennis
---
thats coming together really nice, can see what you are aiming for
---
Great work there Brian looking forward to seeing the final dio
---
---
Who is online
Users browsing this forum: No registered users and 1 guest