My third kit completed (excluding a few thrown together with / by the 4 and 6 year old girls for the craic!)in at least as many years .A pretty infrequent 'born again' modeller after quarter century plus break.(CIE Club Vintage !!!)
Not the WORST kit ( especially for a SHIP!!!Im 'normally' a wingy thing builder)But certainly shows its age .1970s if not 60s ...lots of sink marks ,fair bit of flash etc .I built it to represent the battleship as she went down(some say she was actually scuttled rather than sunk) in a relatively dull finish .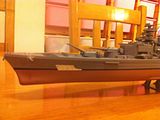 This is the first kit EVER I fully airbrushed !Its the business ,so much smoother finish than brushing.Id recommend anyone take the pulnge ,think my setup was about 125 euro inc delivery from Ebay although I see Marks does compressors now-and postage on airbrush shuld be minimal.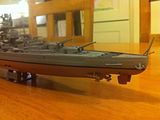 Loads more pics in the album.Sorry quality not great ,taken on phone.