I have often wondered on the use of the centre part of sprues..
this bit.
Then it came to me,a gearbox crossmenber.
Nigel.
---
On the truck,got the glass,steering wheel and search lamp fitted.
While on the rat I have decided to alter the wheelbase - before.
After.
Located an air filter- 56 Ford..
Rear end.
Original screen frame,might cut it down to a single pane.
Nigel.
---
On the rat T or is it a short T ?? Cut the screen down and braced it,also cut down a road wheel and am using it as a steering wheel!
Nigel.
---
Got the new cowl brushed silver with a dash of black and am rusting it up.
Nigel.
---
Since I am doing a custom she deserves a custom dash.
Installed,plus a cracked windscreen and am cutting down a rear seat from a Nova..
Truck wise I have fitted the headlights - very victorian methinks..
Only a single rear carriage lamp.
Nigel.
---
Got the headlights on.
The cracked and delaminating screen.
The seat is fitted and painted.
Decided to go for a silly gearshift....
Nigel.
---
So got the rear lights on,56 fraud...........
Nigel.
---
Done a
low level
brake light.
Nigel.
---
Done some weathering in the rat rod using chalk,tried hairspray to hold it but that just dulled it so went over it again.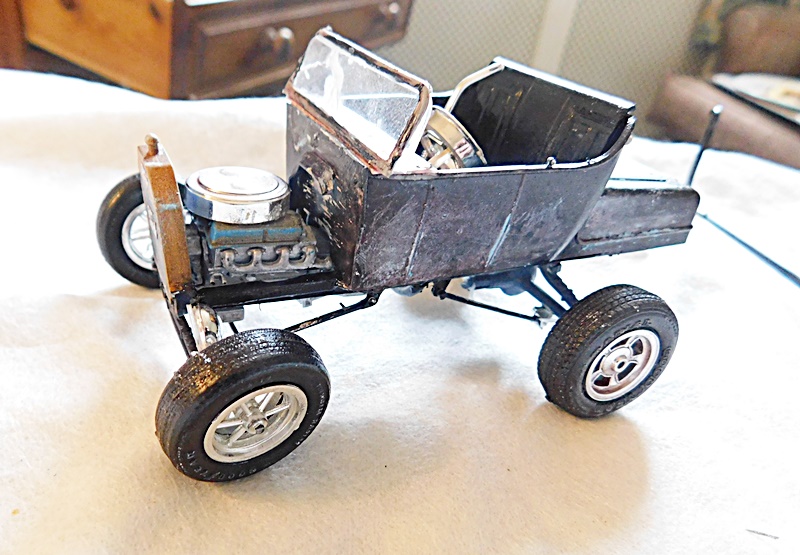 Nigel.
---
That's some clever modelling you're doing there Nigel. Nice use of those bits of sprue
Keep it going!
Vinny
---
---
Who is online
Users browsing this forum: No registered users and 1 guest