OK, you've bought a shiny new airbrush and hopefully you have a source of compressed air... so what next? In this topic we'll discuss the essential tools and techniques to airbrushing and hopefully answer any questions to make the most out of your airbrushing experience and make it as easy and as comfortable as possible. Let's begin!
Compressors
The first thing you will need is a stable source of compressed air feeding the airbrush. There are many ways to do this from rubber tyre rings, CO2 canisters and those pricey (and pretty useless) aerosol type refills. The best option is to buy a compressor... and it's best to invest well. Compressors, like airbrushes, come in all shapes and sizes. Some with air tanks, some without. Some need oil, others are oil-free. Some are quiet while others are quite noisy. Ideally, a modeller using one of these in a house should aim for a compressor with a tank that is relatively quiet (about the level of a fridge). The compressors with oil (the internal mechanism sits in oil) tend to be quieter but a little more messy with oil changes etc. Compressors with a tank will give the user a stored reservoir of air which therefore gives a nice smooth, constant flow of air to the airbrush. Some compressors will fill their tanks and automatically shut off supplying the airbrush with air and doesn't disturb the modeller with noise. When the pressure lowers, as the air is used, the compressor will top it up again.
Compressor without a tank
Compressor with a tank
Pressure Regulators
Normal airbrushing requires a pressure level of about 15PSI. In order to attain and maintain this, a pressure regulator should be attached to the compressor at the point where the air line exits. Most compressors have these as standard but they can be purchased separately.
Regulator with PSI Gauge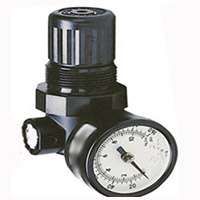 Moisture Trap
An essential part of the airbrushing setup in Ireland is a Moisture Trap. Compressors suck in surrounding air and supply it to the airbrush. If the air has moisture in it, then this too will be sucked in and fed to the airbrush. If a build-up of moisture occurs, the droplets will travel up the air line, through the airbrush and mix with the paint. Not good! A moisture trap will collect any droplets and it can then be emptied at a later stage. Again, a moisture trap comes with may compressors but they can be bought to connect in-line with the air hose.
Moisture Trap
Moisture Trap with Air Regulator and PSI Gauge.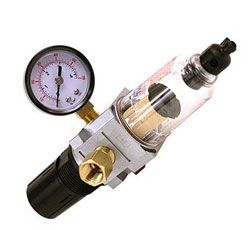 Respirators
It's a hobby that damages the wallet but we don't want it damaging our lungs so it's vital to buy a good respirator. Invest well and buy one that's designed for spraying paints... dust masks will not protect you from solvents. Respirators should be used at all times no matter what type of paint is being used. With a proper respirator you should be able to breath comfortably and not be able to smell any paint fumes.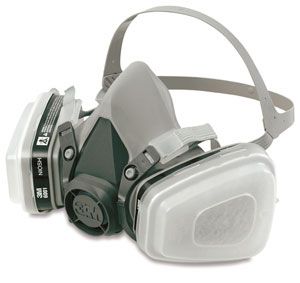 Spray Booths & Extractors
Not essential but very useful for removing paint fumes from hobby areas with little ventilation and confined spaces. They also filter the paint particles that don't land on the model but would otherwise settle on everything else in the room. These are available from about €80 to a few hundred euros. Many modellers opt to build their own extractors from plans available on the internet.
Airbrush Holders
What do you do in the middle of a paint job with an loaded airbrush in hand and you need to adjust something? Airbrushes aren't designed to stand upright on their own, so an airbrush holder, which attaches securely to your workbench, is a worthy purchase.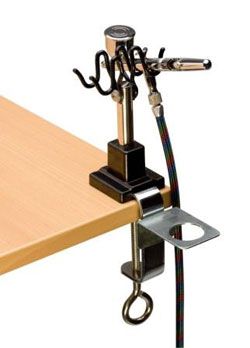 Cleaning Stations/Pot
After a paint job it's a good idea to get in the habit of thoroughly cleaning the airbrush. Part of this task is to flush the paint out using a branded airbrush cleaner or something like cellulose (lacquer) thinner. The flushing process will involve simply spraying the cleaner through the airbrush as if painting. It's a good idea to do this at a higher PSI to really get the cleaner/thinners through the airbrush and removing the paint. Where to spray the cleaners? Many make homemade devices like pots or jars with tissue paper but a useful item is a Cleaning Station. These have heavy glass jars (for good stability) that are partly filled with water. They also have filters for removing paint from the air that exits them. They also double as airbrush holders.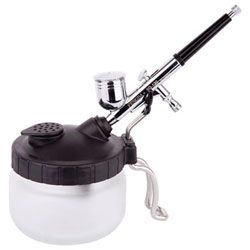 Small Part Holders
There are many ways to hold small parts during an airbrushing session... pegs, cocktail sticks stuck in aeroboard/styrofoam, stretched sprue with a tiny drop of superglue, and so on. One product available off the shelf for this exact purpose is the Almighty Clips stand by Mr Hobby. There are similar products available from other manufacturers that do the same job.
Mr Hobby Alighty Clips
Turntables & Stands
Turntables and paint stands allow the modeller to rotate the model with out touching it while airbrushing. A DIY solution would be a cake decorating stand but there are many generic model spray turntables available on the market at reasonable prices.
An excellent solution is a twin pack produced by Tamiya. This is the Tamiya Spray Work Stand Set that includes a body stand, elevated turntable and 4 spring clips. Available from
Marks Models
for €25.99.